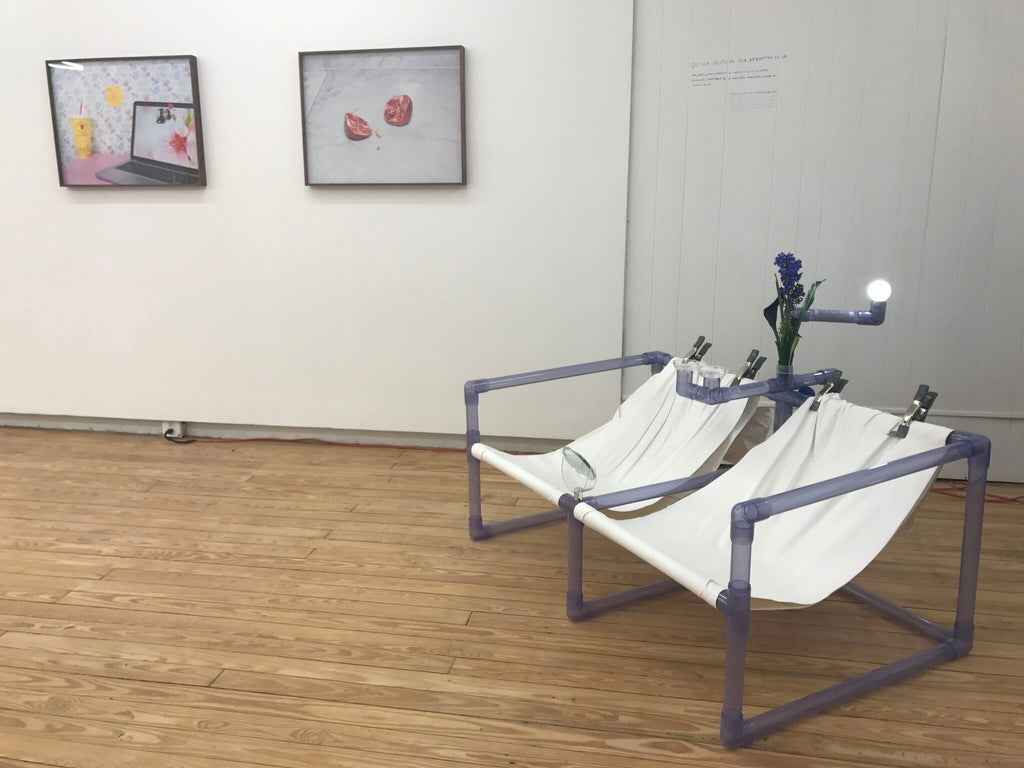 GALLERY
Design Solutions for Attempting Love
---
Design Solutions for Attempting Love plays with position, objects, and transparency, as a system of solutions for relationships, partnerships, and sweethearts.  In attempting to increase our knowledge of carnal reliance, we'll need all the assistance we can get.
PVC, Canvas, Clamps, Lamp, Plastic Champagne Coupes, Flowers, 
Prophylactic
,
  Vanity Mirror, Blue Racquetball, Alprazolam, Leftovers of Promised Love.
Helena Anrather Gallery | 28 Elizabeth Street | New York March, 2017 | Group Exhibition
A SCREAM RUNS THROUGH THE HOUSE
MARCH 21 - MAY 7, 2017
Helena Anrather is delighted to announce the opening of her exhibition space with a presentation of works exploring the souls of household objects. The artists participating in the show are Nanu Al-Hamad, Farah Al Qasimi, Michael Assiff, Dylan Bailey, Dan Herschlein, Akira Ikezoe, Hannah Levy, Michelle Segre, and Kristin Walsh.
A Scream Runs Through the House borrows its title from a book by the critic Arnold Weinstein. The text narrates a vivid dream in which a house full of family members – from ancestors to grandchildren  – is awoken by a child's cry: "one person's pain becomes another's, across time and space; there are no borders separating us." The works in the exhibition bring this dream state into the material world, considering a variety of objects that are fantastically charged and coursing with energy.